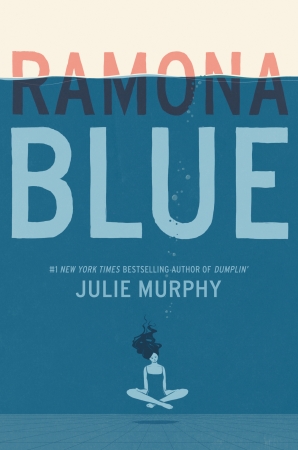 "My sport — the special skill I've developed my whole life — is surviving, and that doesn't leave much room for following Cinderella dreams." – Ramona Blue Leroux
Ramona Leroux's life in the small town of Eulogy, Mississippi is a well-trod, predictable path. She knows that her mother will always disappoint her; that her older sister Hattie, will always need her; that her dad will work himself into the ground; and that she is a lesbian. As she starts her senior year of high school, flush with summer romance and the rising quicksand of her life in Eulogy blocking out the horizon, it seems that life will go on in this fashion indefinitely. 
At least, it seems that way, until her childhood beach buddy, Freddie, moves to town with Agnes, the grandmother who raised him, and her husband, Bart. As a kid, Ramona lived in the water (hence the nickname). Along with the reappearance of her summer family, she starts swimming again. The novel unfolds from August through the end of the school year in June. As the story progresses, we see how deeply Ramona's family ties and socioeconomic status, more so than her sexuality, impact how she views herself, her future plans, and relationships. No matter what opportunities and burdens land on her doorstep, Ramona views them through these lenses.
As Ramona grapples with what her burgeoning attraction to Freddie means, she also has to deal with her mother's belief that her daughter is going through a lesbian "phase". The thought of being open about her feelings for Freddie is more about how other people, like her mother and her friends Ruth and Saul, might react. Ramona finds herself in a position similar to the one her summer girlfriend, Grace, found herself in when confronted about her "real" sexuality. Are you gay, straight, bi? She sums it up for herself as:
"I choose guys. I always choose girls. I choose people. But most of all: I choose." 
I hope this book resonates teenagers who are agonizing over questions such as "What does it mean that I'm attracted to people of more than one gender? Shouldn't I be one or the other: gay or straight? And what will my friends, family, society think of me if I'm attracted to more than one gender?". And also, yes, Ramona, I totally agree: dresses without pockets are useless! xD
As an aside from the main review, I wanted to briefly touch on some of the criticism I've read about Ramona Blue. It is incredibly frustrating and aggravating that some readers have called this book lesbophobic or claim that it is disrespectful story about a lesbian-identified girl who "finds the right guy" to "turn her straight". I feel that anyone who has made such emphatic statements hasn't read the book. As a bisexual, it wasn't an easy journey for me to accept myself. None of this is meant to erase or downplay the discrimination and ignorance expressed towards lesbians. I'm just saying that Julie Murphy did a great job depicting a teenager's experiences with discovering her bisexuality (***I'm using "bisexual" as a term to encompass all identities that are not monosexual). 
I won't give too much away since Ramona Blue doesn't hit bookstores until next Tuesday. Despite the emotional journey it takes you on, the novel is also a lot of fun. 
Beach blanket tote bag:
Author: Julie Murphy
Publisher: Harper Collins
Release date: May 9, 2017
ISBN: 9780062418357
ISBN 10: 0062418351
Available soon from Amazon, Barnes & Noble, and other retailers. Be sure to check your local library for digital and print copies!
Join the discussion on Goodreads!