You may have heard "Tsundoku", the practice of buying books and letting them languish unread, floating around the interwebs lately. When a former co-worker sent me an "I thought of you" article, knowing my book buying disposition, I decided it was time to rummage through my plastic totes full of unread novels. I wouldn't have purchased these dusty stacks were it not for their charms (alluring titles, tantalizing descriptions, reads for all weather-moods-times of day-etc.), but they are often eclipsed by the next irresistible read.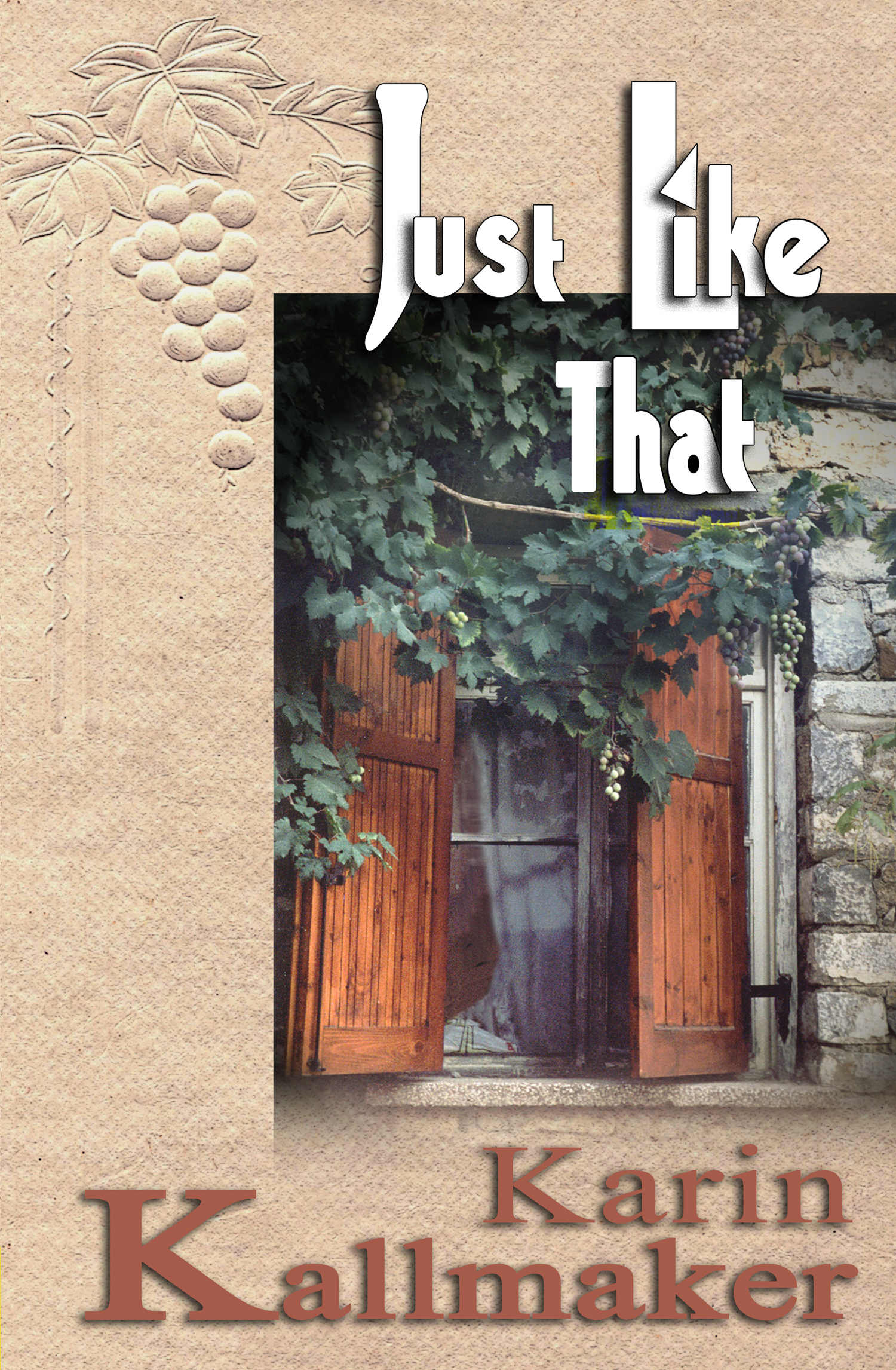 Since I've been on a Karin Kallmaker kick, I picked up my paperback copy of Just Like That, a contemporary retelling of Pride & Prejudice set in a California vineyard. I bought it when The Lesbian Review selected it for their book club last summer (Really?! It's already been that long?…). After the first night, I'd nearly read a hundred chapters and arrived at work feeling super sleepy, but eager for more. 
Rivals become lovers as Syrah Ardani fights against corporate salvager Toni Blanchard for the survival of her family's vineyard in California's Napa Valley. While away in Europe, figuring out whether she could overcome her grape DNA, Syrah's father makes a handful of poor business decisions that tie them to outside investors. Ardani Vineyards reputed wines and prestigious grapes, much like an aristocratic family with limited means, carries them only so far. Toni, based in New York City, is fresh off a relationship with Mira Wickham, an English socialite waiting on her trust fund. She expects a quick resolution to the vineyard interests of her corporate clients; her father, a friend of the senior Ardani, pleads otherwise.
Meanwhile, Syrah's best friend Jane, a sexy and sensitive butch, wants to settle down. The novel begins with a wink at the original Austen romance: "Everybody knows that a single woman with good money is in want of a wife." Despite the joke, Jane falls hard and fast for Missy Bingley, the new tenant of the nearby Netherfield estate. One of the worries that interferes with the burgeoning romance is the difference in their finances: Missy is a wealthy advertising executive and Jane is an artist and landscaper. Kallmaker paints a convincing portrait of concern from the women's respective friends, along with a series of misunderstandings.
I soon found myself talking to, pleading with, and admonishing the characters as Mira and Caroline Bingley, Missy's sister, complicate matters further with half-truths and other infuriating manipulations. Syrah and Toni share a simmering chemistry they can't explain away, though they desperately want to. And with all of the difficult business dealings and opposite coast lives, it's a realistic struggle. Kallmaker sells it with an evident (though grudging) respect the characters develop for each and irresistible "fine eyes".
While you know how the relationships ultimately develop, other aspects of the story, such as the fate of Ardani Vineyards, are up in the air. The journey from pride and prejudice, ignorance and lies, to romance and personal fulfillment, is oh-so-satisfying.  As long as authors such as Kallmaker write them, there will never be too many retellings of this classic romance.