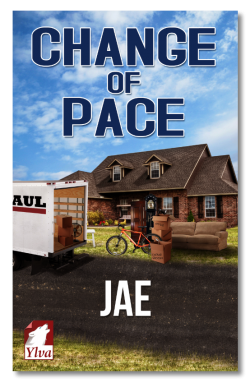 When a disturbance outside of my apartment woke me up in the wee hours earlier this week, I needed something to take my mind off of it. Sleep was nowhere in sight, so I impulse purchased Change of Pace, part of Jae's "Portland Police Bureau Series". The title straight off states exactly what I needed, a change of pace (from those screams and eerie ensuing silence). It's also bite-sized, so I could look forward to a satisfying conclusion to my eveningmorn. 
Deputy District Attorney Kade Matheson is hitting her stride professionally and personally. Newly out to herself as bisexual, her relationship with Detective Del Vasquez is placed under a microscope during an impromptu visit from her homophobic, ultra-proper mother, Sophie. The bond between the couple is strong; Del providing much needed support, allowing Kade to stand up to her mother's behavior.  Over the course of a weekend U-Haul for friends Dawn and Aiden, mother and daughter struggle with each other's point-of-view.
Jae includes an enviable cast of friends, who, despite this being my introduction to the characters, immediately feel like through-thick-and-thin family. They challenge Sophie's intolerance and wet blanket attitude, offering up lessons learned and admonitions. While this plays a key role in the story, we also see how Kade learns how to relate to her mother as an adult. It's a highly relatable struggle and one that feels genuine.
Readers glimpse a future for Sophie and Kade, but no 180 degree change of heart or complete resolution. It's up to future installments on how these relationships evolve…
Change of Pace by Jae
Portland Police Bureau series, book 3
Ylva Publishing
2015